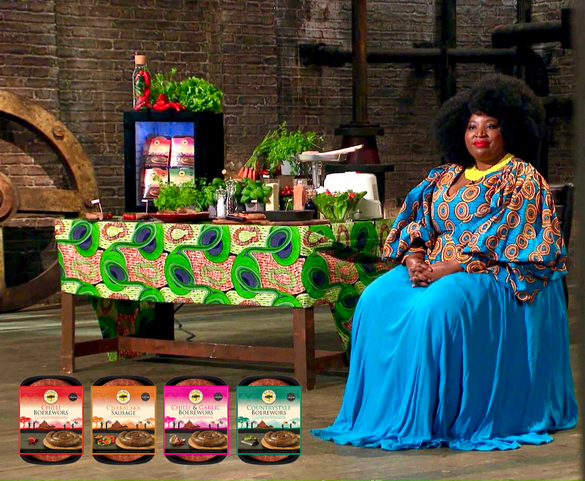 09 Jul 2021
The final episode of the latest season of Dragon's Den last night showed K's Wors founder, Delight Mapasure becoming the latest in a long line of rejected entrepreneurs not to win either approval or funding from the BBC's learned business panel.
However, Delight looks back at her failed pitch with nothing but fondness because it was the October 20 encounter that provided her and her team with the final slither of impetus, they required to prove these latest in a long line of serial doubters wrong.
Today K's Wors (specialist boerewors sausage business) is valued just north of £2m (its grown x5 in last 9 months alone) with a significant nationwide reach that today includes Ocado, a buoyant DTC operation, a national network of supportive delis, farm shops and garden centres and perhaps most importantly of all Costco who listed K's Wors in April 21 in the middle of Lockdown
August 21 sees K's Wors up the ante further with an exclusive, Ocado commissioned pork boerewors, which will sit next to the business's core, incumbent 3 meat blend offer.
According to Delight, 'Costco is a pivotal business that didn't happen overnight and we've had to work tirelessly over a number of months to prove that our recipes matched their ambitions. Costco simply aren't interested in accommodating any quick fix or short-term trends, opting instead for a smaller number of trusted partners with whom they can forge meaningful long-term relationships. For us this blue riband alliance not only significantly expands our end-customer reach but enables us to work with a retailer with proud foodservice & hospitality ties.'
It's important to remember that K's Wors is a business that featured on BBC's Life & Debt having taken 20 attempts to secure any meaningful investment with any high street banks, angels, start-up loan providers or fund-lending platforms all concluding that Dee and her team would be unable to make the transition from fledgling start-up to flourishing food pioneer. Yet today K's Wors has just recruited its first Commercial Director and Marketing Manager.
Delight concludes by saying 'I suspected that my chances of success in Dragon's Den were miniscule the moment I realised that 2 of the dragons were vegetarian, one was a 'sausage detractor' and one had a prior sausage producer commitment. Sometimes things just aren't meant to be and that's the bottom line. And for someone like me who has been historically told by a so-called learned business advisor that my vision was little more than a frivolous hobby and that women like me were better off at home cleaning and raising children, a very courteous no thank you from Peter, Debbie and Sara was water off a duck's back.'
Kswors.co.uk