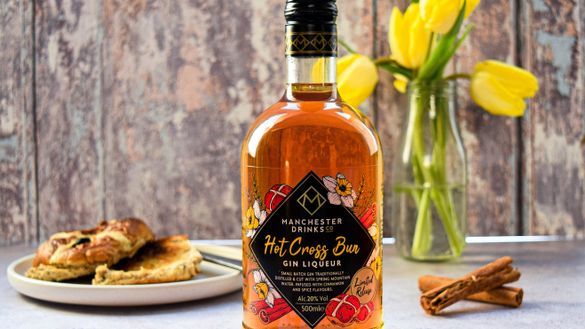 05 Feb 2021
Manchester Drinks Company Launches Hot Cross Bun Gin
Tags: Manchester Drinks, Easter, Hot Cross Bun, gin, Flavoured Gin, Seasonal Release, Small-batch gin, sweet, Alcohol, Beverages
---
Manchester Drinks Company has launched an Easter- themed Hot Cross Bun Gin.
This small-batch gin liqueur is the ultimate blend of sweet fruits and punchy spices including nutmeg, cinnamon, cloves and ginger, creating the familiar rich and fruity hot cross bun taste. 
The limited-edition gin is now available exclusively in Home Bargains stores nationwide for £8 per 500ml bottle, 20% ABV.
Hot Cross Bun Gin is the perfect treat for adults to enjoy over the Easter period. Simply mix with tonic or ginger ale and serve over crushed ice for a drink to savour, or if you're feeling extra fruity it's ideal for a punchy Easter cocktail.
Richard Benjamin, Director at Manchester Drinks said:
"Easter isn't just about indulging in easter eggs, it's about enjoying a tipple or two as well. This gin has been lovingly crafted to get the perfect balance of flavours to create a drink that really captures the much-loved flavours of a hot-cross bun!"  
- Ends -
Notes to editors:
About Manchester Drinks 
Established in 2005, Manchester Drinks is a leader in the ready-to-drink market
Manchester Drinks provides a wide range of award-winning own-label and branded cocktails in bottle, can and freezable pouch formats, as well as flavoured shots
The company also offers a range of non-alcoholic, portable fruit squash products
Manchester Drinks has secured the license for Slush Puppie Pouches across the UK, Europe and the Middle East, from licensor Pinkey.
For further information or photography, please contact:
Rachel Leamon / Rachel.leamon@thisisrms.co.uk / 0161 927 3131
Alex Murdey / Alex.Murdey@thisisrms.co.uk  / 0161 927 3131