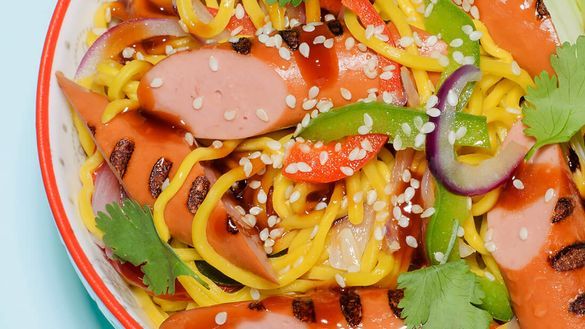 02 Jun 2020
Half of Millennials Can't Cook Three Dishes
Tags: Lockdown, Ye Olde Oak, hotdog, Cooking, Meals, Statistics
---
Survey finds 60% of us can't boil an egg!
Research has revealed that almost half (47%) of millennials don't know how to cook three meals from scratch – which could pose a problem during the country's current lockdown period.
Ye Olde Oak, the UK's favourite hotdog brand, carried out a survey of 2000 people to test their cooking prowess.
When asked if they could make three homecooked meals from scratch, almost half (47%) of millennials admitted that they couldn't, and an additional 7% claimed they've never ever cooked a meal from scratch. 
However, surprisingly, eight out of ten millennials would rather cook than get a takeaway – perhaps showing that they need to brush up on their cooking skills to help to make this a reality.
Looking at what millennials can cook, baking seemed like a popular choice, with 38% knowing how to bake a cake without a recipe, 17% baking bread, and 14% even making their own pastry.
When it comes to savoury dishes however, 77% of millennials have never cooked a Sunday roast, and just a third know how to make family classics like spaghetti bolognaise or shepherd's pie, compared to two thirds of those aged over 45.
The research also tested Brit's overall food knowledge to find out some common misconceptions. Just half of respondents (53%) believed that canned foods can be just as nutritious as fresh foods, whereas some canned foods actually contain more of the good stuff then their fresh counterparts. 
The findings also revealed that a huge two thirds of UK adults don't know how to boil an egg, with confusion around cooking times evident across all age groups.
When it comes to home cooking, a quarter admitted they think cooking is very time consuming, and an additional 28% said healthy food is very expensive which is not always the case. 
Overall, the Welsh came out on top as the UK's best home cooks, with almost eight out of ten (78%) able to cook at least three family meals from scratch.
Bryn Scadeng, Head of Business Development at Ye Olde Oak, said: "With people around the country needing to be more resourceful with food than ever before, we wanted to find out just how millennials' cooking skills stacked up.
"The findings showed that some of our cooking skills are definitely lacking, but being creative in the kitchen doesn't necessarily require a lot of time and skill. There is a huge array of tinned foods on offer these days, which are excellent value, and cook in no time at all. Next time you're struggling to think of what to cook for dinner, raid that tin cupboard and you'll have a meal in moments!" 
ENDS