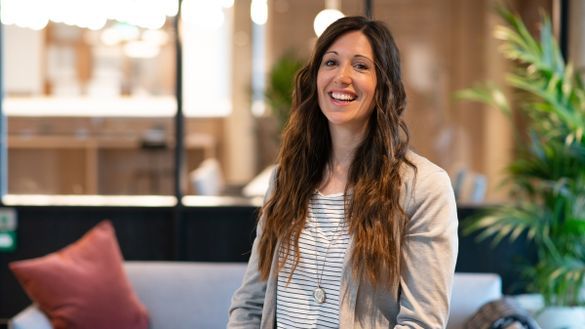 27 Feb 2020
Hannah Carter, Making the World a Better Place One (Egg-Free) Cake at a Time
---
Women have been incredibly influential in the vegan food industry for many years: from Sally Shrigley, co-founder of the Vegan Society, who helped coin the term "vegan", to Tammy Fry, the head of marketing at The Fry Family Food Company, and Heather Mills behind V Bites Foods, the plant-based food industry is brimming with brilliant, awe-inspiring female leaders and entrepreneurs. Today, an outstanding new recruit joins these ranks: plant-based food pioneer Hannah Carter, the founder of OGGS®, a company which has pioneered the development and use of aquafaba – an all-plant, easy-to-use alternative to eggs made from chickpea water – which is the (not-so)secret ingredient to OGGS® epic cakes without compromise.
The OGGS® mission is to remove all the hidden animal protein in the food chain by offering plant-based alternatives to everyday foods, that taste as delicious as you've always known them, whilst doing their best to positively change the future of the planet, animals and people with every, little, bite.
OGGS® launched its cakes range in June 2019, launching in over 720 stores across the UK, a mere 6 months after the first sample cakes were made. Not only that but OGGS hit 1 million pounds in revenue just 8 months after they launched.
Since the launch, OGGS® cakes have saved 208,579 eggs, given 36,154 chickens the week off and ensured that 403,113 pieces of plastic packaging will biodegrade.
Most importantly however, while the OGGS® product range may seem like a breakthrough mainly for the vegan and free-from communities, Hannah and her team's strategy is to create cakes that are tasty enough for everyone regardless of your life choices.
"We want everyone to enjoy OGGS®. If only vegans ate our cakes we wouldn't be driving enough change, as they don't eat eggs anyway!", said Hannah Carter, founder of OGGS®.
Hannah and the OGGS® team have created the world's first patented liquid egg substitute: OGGS® Aquafaba. A substitute for baking and cooking, it is set to hit the shelves of supermarkets nationwide in 2020
"My vision is to provide a product direct to consumers, which can be used for home baking. But I dream of replacing all the egg whites and powders that are hiding within our food chain from crisps to gluten-free bread, providing a cruelty-free plant based alternative". Says Carter.
Hannah is a vegan, as well as a remarkable, shining example of female entrepreneurship. She spent 12 years in the pharmaceutical industry, launching products globally across a range of disease areas; and she designed one of the most successful wound care products to date at the age of 28. By the time she was 31, Hannah became the youngest and only female Senior Director in Europe at a top 15 Pharma company. It is thanks to this scientific product development experience and strategic expertise, and out of Hannah's passion for making a difference in the world, for purpose driven profit, and for… cake, that OGGS® was born. Today Hannah is at the head of OGGS®, while continuing to lead the way and make the world a better place with her incredible plant-based initiatives.
… and it's working!
"With climate change and the environment high on the news agenda, the message that everyone must play their part is clearly gaining traction with consumers. Next generation customers increasingly care about their impact on the environment, question their food choices and actively seek out brands with the best environmental credentials, to which we think OGGS® is the perfect answer." Says Carter.
Better still, OGGS® cakes not only win the hearts of vegan and environmentally conscious consumers, but find their place at any event; be it colourful Mini Vanilla Cupcakes for a birthday party, a Zesty Lemon or Victoria Sponge cake to pair with tea, or a scrumptious Chocolate Fudge cupcake to indulge in during a work break, rest assured OGGS® have got any occasion covered!
Beyond being vegan and incredibly versatile, OGGS® does business 'the right way'; this means they consider all parts of their processes, working towards making them as ethical as possible. For example, their packaging is made from recycled plastic, fully recyclable and if it does end up in landfill (because we forgot which bin to put it in), it will also biodegrade. They care for people, by providing unlimited holiday for the team and off-set their carbon footprint by protecting 30,000 trees each year and planting 2,500 new ones. The icing on the cake? The company aims to be a zero waste, zero trace organisation by the end of 2021!
~ ENDS ~
For more information, please contact AJ Sharp or Claire Hernandez on aj@sharprelations.com or claire@sharprelations.com, or call 0844 77 66 342
Editor's notes
OGGS® is a value-based, ethical food brand created with animal wellbeing and the planet in mind. They offer egg-free vegan cakes, which are flying off the shelves: within eight months of its launch, the brand had sold just over 400,000 boxes - that's 1.7 million cakes! OGGS® is also soon to launch the world's first patented all-plant liquid egg substitute; aquafaba. The company has already secured a stockist pre launch, OGGS® products are currently available in Sainsbury's, Waitrose, Dunnes and The Vegan Kind.
For more information about OGGS vision and their products, please visit www.loveoggs.com.