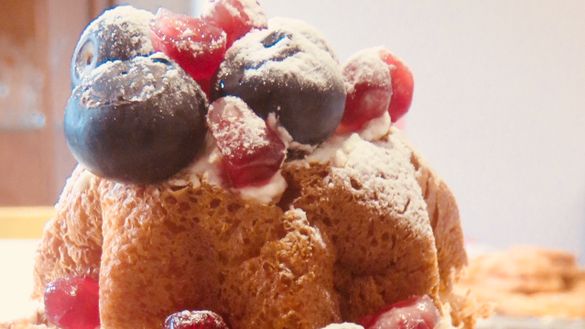 22 Dec 2017
So… How Do I Eat Panettone and Pandoro?
Tags: panettone, pandoro, how to eat, zuppa inglese, amaretto, vin santo, italy, Italian food
---
We know a good panettone when we see one. And we stock a huge range at this time of year in the 'Christmas' section at nifeislife.com, from the ever-popular Bauli and Tre Marie (there's even one without candied fruit) to more artisan offerings from Milan such as a gorgeous C. Confetti version with ginger and chocolate, presented in stylish silver packaging or a panettone topped with white chocolate and pistachios, with a jar of pistachio cream alongside.  Pasticceria Biffi is another favourite supplier among ­Italians, so why not try their hand-made creation made with all-natural ingredients?
Pandoro
Literally golden bread as, in the Middle Ages, pandoro was eaten only by the nobility, we have pandoro in various sizes (100g minis to a show-stopping 1kg) and even a gluten-free version, one with extra dark chocolate and one with no candied fruits. This star-shaped cake is a traditional treat from Verona, packed with egg yolks, vanilla and citrus zest. It's served dusted with icing sugar to resemble snow on the Alpine peaks.
Serving tips: Slice the cake horizontally to get a star shape, then spread the star-shaped slices with cream or mascarpone cream. Layer into a tree shape and scatter with pomegranate seeds or berries. Dust with icing sugar and top with more pomegranate seeds and blueberries to serve.
Partner pandoro with a glass of vin santo or dessert wine for an easy and very Italian finale
Panettone
In recent years, panettone has become popular in the UK, as an alternative to our own heavier Christmas cake. Italians themselves are divided between the panettone fans and the pandoro lovers but we say that this light yeasty cake from Milan with its vanilla and candied fruits is a treat at any time of the year. We sell a great range of panettone from Biffi, one of Italy's most prestigious bakers – either classic or one without candied fruits.
Panettone is made during a process of several days that involves curing the dough, which is acidic, similar to sourdough, which gives the distinctive fluffy characteristics. It contains candied orange, citron, and lemon zest as well as raisins.
Serving tips: Italians serve it cut into wedges vertically, with sweet hot drnks or a sweet wine. In some regions, panettone is eaten with zabaione or crema di mascarpone made from cream, eggs, candied fruits and a sweet liqueur such as amaretto.
If you want to turn stale panettone (or even a fresh one!) into a show-stopping dessert, try this popular Italian idea and make a bombe. There's a great version from Jamie Oliver here https://www.jamieoliver.com/recipes/fruit-recipes/winter-pudding-bombe/ - you simply line a lightly oiled bowl with slices of panettone (as you would with a summer pu dding), drizzle with alcohol such as vin santo or sherry then pack with ice cream, or cassata if you want a Sicilian touch. Then freeze for up to two weeks. When you're ready to serve, invert the cake on to a plate and pour melted chocolate over.
Leftover panettone is gorgeous fried in butter and served with poached fruit or ice cream.
Christmas trifle

Did you know that in Italian, trifle is known as zuppa inglese (English soup)? Either way, this is a great way to use up stale panettone or pandoro… just line the base of a trifle bowl and sprinkle the trifle pieces with sherry, vin santo or amaretto. Leave until soaked and infused, then top with mixed fruit  - berries such as raspberries, blueberries, blackberries and strawberries work well, or soak the sponge with Cointreau and top with Cointreau-soaked orange slices, flaked almonds and cranberries. Add cream or whipped mascarpone and top with extra fruit and slivered almonds to serve.
Other mouthwatering ways to enjoy panettone or pandoro are to use it to make a bread-and-butter pudding or for something even easier, fry slices in butter and serve with lashings of cream and fruit. You can also toast slices and sandwich with ice cream for Italian-style s'mores.
NOTES TO EDITORS
Nife is Life (nifeislife.com) stocks a wide range of authentic, great-quality Italian panettone and pandoro to suit every budget. For press enquiries, more information or for images, please contact Jo Lamiri at jolamiri@nifeislife.com