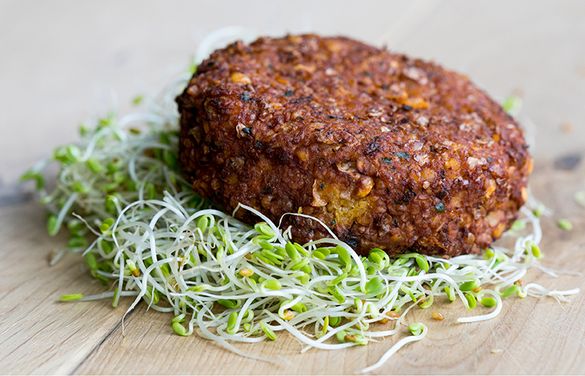 08 Jun 2017
VBurger Opens Flagship Vegan Burger Bar in the Heart of Camden Market
Tags: vegan, Burgers, vegan burgers, vegan food, vegan chef, Fast Food, Restaurant, launch, reviews
---
North London duo, Reuven Cohen and Amir Wayman, open their flagship vegan burger bar in Camden Market on 1st July 2017. The bar will offer market revellers vegan street food at its best – a simple but playful menu of fast, fun and moreish plant-based burgers that anyone can enjoy.
Cohen and Wayman noticed that despite the popularity of vegan food, there were few places you could very conveniently grab a quick and hearty burger without giving up on all the fun of a genuine fast food experience. VBurger now brings that joy to Camden Market.
What makes VBurger special is that the menu has been developed by a reputable London chef, Yossi Edri. His input makes the burgers nothing short of fantastic, as he combines a real understanding of plant flavours and textures, with the honesty and simplicity of finger-licking street food.
VBurger will initially serve three vegan burgers, including beetroot, falafel and seitan schnitzel which you can top and tail with optional vegan cheese or avocado. Five more burger options will be added later down the line. Sides include skin-on fries, sweet potato wedges and coleslaw salad. Your sweet tooth can be tamed with delectable chocolate brownies and date & cocoa energy balls. Serving times are 7 days a week from 10am – 7pm.
Co-founder Reuven Cohen, said: "We wanted to extend the ultimate Camden Market experience of shopping, eating and roaming to be even more inclusive. Our tasty plant-based comfort food is as nourishing for the soul and it is for the body."
Co-founder Amir Wayman, added: "We are very excited to launch VBurger and warmly welcome everyone, be they vegan, vegetarian or with no preference at all, to come down and give it a try. The burgers are guaranteed to hit the spot."
The flagship Camden Market shop will be the first of several as the two co-founders have their eyes set on opening more sites over the next three years.
Find out more about VBurger on www.vburger.co.uk. Get in touch via email on info@vburger.com or follow them on social media:
Facebook:      V Burger Camden
Instagram:    vburgercamden_