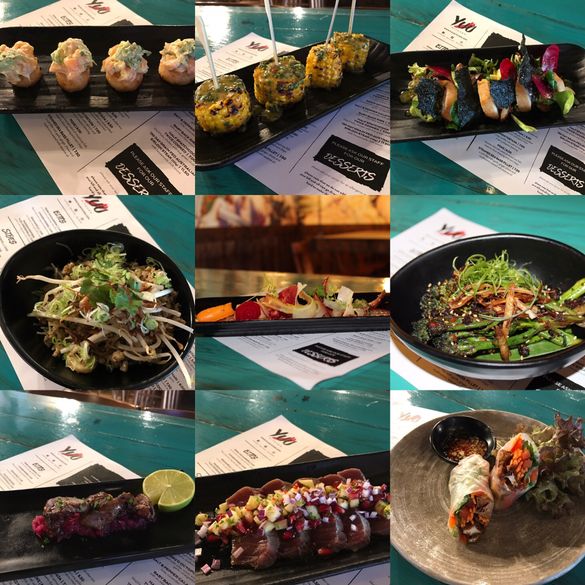 10 Apr 2017
Yuu Kitchen, Commercial Street Launches New Season Menu
Tags: Restaurant, asian, southeastasian, spitalfields
---
Yuu Kitchen Restaurant located in up-and-coming trendy Commercial Street has been serving up South-east Asian & Pacific rim flavoured dishes tapas-style for the past 7 months and has successfully positioned itself as a dining contender in this vibrant area near Spitalfields market.
Yuu kitchen took the number spot on TripAdvisor as the best restaurant in London from late January to early March firmly cementing itself in the Asian dining sector offering high quality, flavoursome food. 

Having launched with a successful menu, Chef Jon de Villa (of Nobu and Zeffarano) has created a new season menu that taps into the more raw flavours of south-east Asia. The items include light and fresh dishes as well as favourites from the opening menu.

Highlights include: 

CORN ON THE COB (v) | 4.50 shichimi pepper and yuzu butter
JERUSALEM ARTICHOKE, LOTUS ROOT CRISPS (v) | 4.00 roast garlic aioli
BEETROOT, WATER CHESTNUT, CHIVE DUMPLING(v) | 5.50 soft and crunchy gyoza with a goma sauce
150 day GRAIN FED SIRLION | 8.00 3 type onion stack, bbq sauce
SHIITAKE MUSHROOM | 5.00 hoisin mayo, carrot pickles
GRILLED DUCK HEARTS | 5.50 pickled red onion and bbq sauce
PAN FRIED SEA BREAM & PAPAYA SALAD | 8.00 fresh thai salad with tomatoes, green beans, peanuts, shallots and shrimp
SMOKED COBIA FISH SALAD | 7.50 young leaves, crispy nori, kaffir lime and mustard dressing
CRISPY RICE AND SALMON | 7.00 avocado and a spicy jalapeño dressing
Favourites that have remained on the menu include the infamous SWEET & STICKY EGGPLANT (v) | 5.50 wok fried with white miso glaze, crunchy shallots and sesame that has been the showstopper since opening, with every guest (whether a fan of aubergine or not) reeling for more. The BBQ'D OCTOPUS | 8.50 braised with sake, mirin and soy with a ginger and garlic sauce has had guests in complete surprise with the tender yet flavourful dish. BABY BACK RIBS | 7.50 with an asian bbq sauce and chilli are so soft, tender and fall off the bone this dish is a firm favourite for all visitors including Rugby player Danny Cipriani who has had cooking lessons with Chef de Villa for Rugby Lives. Another firm favourite is the POKE | 8.00 hawaiian themed salad of mixed raw fish, sesame citrus dressing and corn chips.

Yuu kitchen's menu also caters very well for Vegetarians and has an Allergens menu which can be tailored for those with Dairy, Gluten, Nut intolerances or allergies as well as being able to cater for Vegans with most dishes.
The restaurants' dining style is an informal, casual sharing affair where 3-4 dishes per person from various sections of the menu are recommended. The drinks list has a range of Sake which flights are available for and great wines including the Italian red and white both served 'on-tap' as well as the popular Frizzante served from a tap. Beers include Hawaiian Kona Beer and Asahi. For non-drinkers, the soft drink company Karma Cola UK are listed for their Cola, Ginger and Lemon cans which actually can be paired with some of the dishes. Yuu Kitchen also serves Bubble Tea which can be a mocktail or served with a shot of spirit. Flavours are lychee, apple or lemon and they use juice balls instead of tapioca so the drinks are refreshing and light, perfect with the food.
The new season's menu has been well received by new guests and repeat customers alike with favourites including the Jerusalem Artichoke and Lotus Root Crisps and the Crispy Rice and Salmon dishes.
ENDS
Notes to Editors
ABOUT YUU KITCHEN
From two of the founders of the world-famous ICEBAR London, comes Yuu Kitchen - a restaurant inspired by the flavours of South-east Asia and the Pacific rim.  Yuu Kitchen is managed by two of the Directors, Australian friends, Stephen Lowe (General Manager); a long time London restaurant manager, previously of ICEBAR London and Jon de Villa (Head Chef); previously of Nobu, Nobu Berkeley and Zafferano. 
Yuu Kitchen operates a Walk-in policy except for groups of 4 or more.
Yuu Kitchen do not add service charge to the bills, they prefer the servers get what they deserve directly.
CURRENT OFFERS:

Bao of the Week: Weekly special Bao

Lunch: £15 plate of Meat, Fish or Vegetarian served with Edamame, Rice & House drink (includes Beer, Wine or Soft Drink)

Brunch: Weekends only £28 10 course Brunch add Bottomless Bubbles for £20
For further information and reviews, please contact
Puja McClymont
07842 656 766