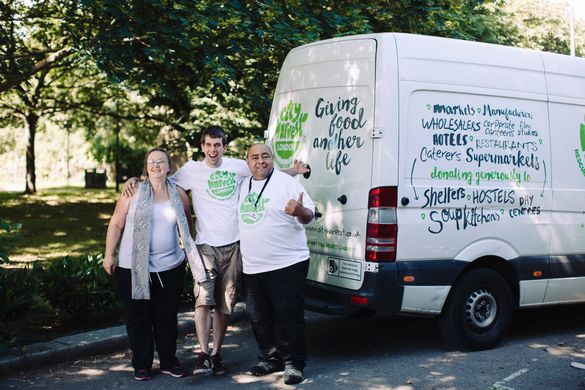 13 Feb 2017
City Harvest Announced as Leiths Charity of the Year
Tags: leiths school of food and wine, City Harvest London, Charity, Food waste, Sustainable Food, sustainability, Food, Restaurants, Canapes, charity of the year, London, Cookery School, community outreach, chef training, Surplus food
---
Leiths School of Food and Wine, set up by TV legend Prue Leith in 1975, has chosen to support City Harvest London, who redistribute fresh surplus food to organisations that feed the hungry.
Leiths Managing Director Camilla Schneideman said: "We're delighted to announce that our charity of the year for 2017 is City Harvest London. This amazing organisation helps to feed those who need it most, while reducing the environmental impact of wasting food."
Leiths School of Food and Wine will be donating the proceeds from its annual Canapé Party, on 17th March, to the charity. The event sees the School's professional students creating a menu of innovative canapés for approximately 200 paying customers. The proceeds from the evening will be combined with money raised throughout the year.
City Harvest CEO Laura Winningham said: "This is a fantastic honour and welcome recognition from one of the top cookery schools in the country. We're very proud of the high-quality nutritious food we deliver to homeless organisations and we welcome the support of Leiths in helping us achieve our aims."
Each week, City Harvest delivers five tonnes of high quality, nourishing food to organisations that provide meals to vulnerable people including homeless shelters, soup kitchens, after school programs, centres for veterans, and organisations that assist people with alcohol or drug addictions.
Some of the 150 community organisations that receive City Harvest food deliveries include Acton Homeless Concern, Aston-Mansfield, The Upper Room, Glass Door Night Shelters, FoodCycle and British Red Cross Refugee Support.
By delivering free food, City Harvest frees up funds within these charities, which are reinvested in other vital support services like medical care and counselling.
The food it recycles is diverted from going to landfill where it would release gases toxic to the environment, and the service means that overall, less food needs to be grown, reducing the carbon footprint of London's food consumption. To date, City Harvest has recycled more than 240 tonnes of food.
City Harvest enables people to eat great food with dignity. Its vans are greeted with excitement and pride because people know that they contain high quality food from some of the best stores in London. The food served gives vulnerable people the strength they need to overcome hard times.
City Harvest is always looking for volunteers and donations. Supporters can get in touch via their website www.cityharvest.org.uk, by email info@cityharvest.org.uk, or on Facebook and Twitter.
Follow Leiths on Twitter and Instagram at @leithscooking, and find them on Facebook to keep up to date with news and events.
ENDS
Notes to Editors
About City Harvest
It provides safe, easy, reliable food rescue, making it simple for food donors to get their nutritious food to hungry people and reduce their waste collection costs. Food donor employees experience a huge morale boost from giving to those in need, whilst customers prefer to patronise sustainable restaurants and retailers. The Sustainable Restaurant Association encourages food donations to City Harvest.
About the organisations that receive food from City Harvest
Acton Homeless Concern is a centre where homeless people can find food, clothing, friendship and advocacy; over 250 vulnerable people are served meals each day using City Harvest's nutritious ingredients.
Aston-Mansfield supports children and families, with a key aim of providing learning opportunities whilst enhancing life skills. City Harvest provides food to support their daily breakfast and after school club.
The Upper Room is a front line charity working with socially and economically disadvantaged people from some of the most deprived areas of London. Over 100 people are fed each day with surplus food.
Glass Door/West London Churches Night Shelters allow 140 people to sleep more safely each evening during the cold winter months. Volunteers set beautiful tables helping vulnerable people eat with dignity.
FoodCycle is a national charity that runs local 'Hubs' where volunteers are trained to cook healthy, tasty, three-course meals with surplus food. Food is served with warmth and dignity to those facing poverty and social isolation. City Harvest supports with regular deliveries to FoodCycle Marylebone, as well as for one-off events at Hubs across London.
The British Red Cross Refugee Support group in Dalston supports destitute refugees and asylum seekers as they struggle to survive and adapt to life in a new country. City Harvest food deliveries have helped to make a difference to the people in crisis who visit.
About Leiths
Leiths was established in 1975 to provide a professional training for career cooks and short courses for amateurs and enthusiasts. The School provides comprehensive theoretical and practical teaching, qualifying students to enter the highly competitive food and wine industry and launch a career with an esteemed qualification. With close links with some of the country's top restaurants, food magazines and food businesses, students benefit from excellent internship opportunities as well as exciting job opportunities. The Leiths recipes featured in the Bloomsbury published range of books are devised, tested and tasted by the teachers at the School.
Further Information
If you require any further information about City Harvest, to request an interview or for images, please contact:
Ian and Jenny Liddle, Excellart, 01761 413022
info@excellart.co.uk, www.facebook.com/Excellart, www.twitter.com/excellart
For more information, photographs and interviews from Leiths School of Food and Wine please contact:
Lily Grouse:
lily.grouse@leiths.com
020 8749 6400 ext. 232.
More information can be found at www.leiths.com